BGH Player Profile: Frank Kovács

Frank Kovács (LW) played 29 games as a RiverFrog in the 1995-1996 season. He now plays in his native Hungary for Szekesfehervar ALBA Volán FeVita

in the Hungarian League and is also on the Hungarian National Team.
Here are some pictures from FeVita: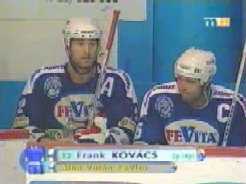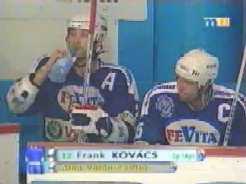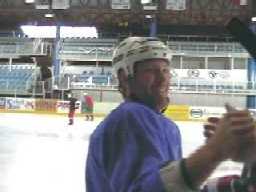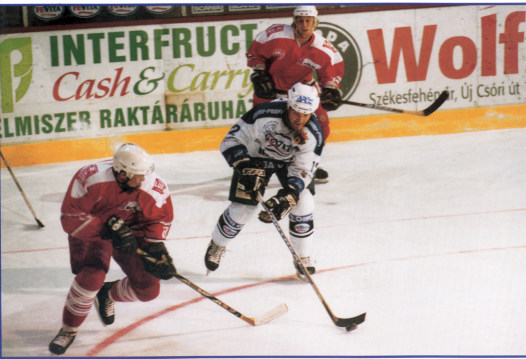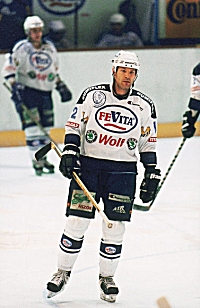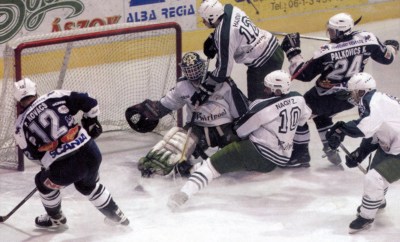 --------------
Where are they now - Frank Kovacs
Article by Andy Parsons, 2001
Frank Kovacs has won everything in the British game worth winning, but he is now playing in a country where the hockey is totally different.

When Dale Junkin left for Italy, most fans knew about the sort of competition he was going into, as with Scott Allison when he went to the DEL, but Frank on the other hand is now playing his hockey in Hungary.

Frank dons the skates for Alba Volan Fevita in the town of Szekesfeharvar, 50 miles to the west of Budapest. The team is owned by and named after bus and frozen food companies because of sponsorship reasons. The style of play is very different to the game we are all used to, as Frank explains: "Here, there is barely any body-checking and a lot of uncontrolled hockey. What I mean by that is in Britain you have basically all Canadians who have been taught systems and the correct way to play the game. Here in Hungary, they are still learning!"

You would think that in a league where there isn't too much finance or quality players, the arenas will be run-down and poorly maintained, and that's not too far from the truth. Some don't even have roofs on! "The country itself might only have 3 arenas with roofs on them and the rest are outdoors," he says. "Out of the three that have roofs on them, two I know are pretty nice. I would say a little nicer than Bracknell but not much better. I had to play a game last season in an outdoor arena and it was quite an experience believe me. But it sure makes a guy appreciate rinks with roofs on, even Bracknell and the old Nottingham arena!"

Playing has become increasingly difficult for Frank, with his knee still causing him problems. This could be his last season as a player but he isn't thinking about that just yet. "The problem is, I hurt my patella tendon a few years ago," he states. "I had an operation in Sheffield and believe I probably came back too soon and then it just never got right from there. It felt good when I went to training camp here in Hungary but my first game of the year, I banged it again and it hurt. The very next day we played again and I banged and twisted it and that was the start of a whole new set of problems. So I am hoping and praying that this year I can play injury free and that my knee can withstand the season."

It would be a great loss to the game if a genuine guy like the former Steelers number 12 has to quit, but hockey is in his blood. "I just can't see myself doing anything else really," he admits. "I love coming to the rink and putting the equipment on and playing the game I love. I know one day I will have to quit but I just feel too good right now, except for the knee, to hang them up. Everything else in me is saying go for it and play, but my knee is the only thing that makes me think about the future. As for now, I am going to continue on playing and just trust in the Lord to help me finish this season." Even though he keeps in the best possible physical shape with regular trips to the gym, we all hope that he can continue for as long as possible.

During the summer back home in Canada, Frank helps out in a hockey school in Moncton, New Brunswick - but not any old hockey school. It is also combined with getting the kids to believe in their inner selves and in Christianity, also a huge part of Frank's life. He really enjoys coaching the youngsters and giving them the opportunity to learn about hockey and religion, and this could be a great opportunity for him to continue his career in the sport when he does finally hang up the skates for the final time and decides that it is time to try something new.

See a current pic and info in Hungarian here.
Click here to go back to the Bluegrass Hockey main page
This page maintained by mangodance ...